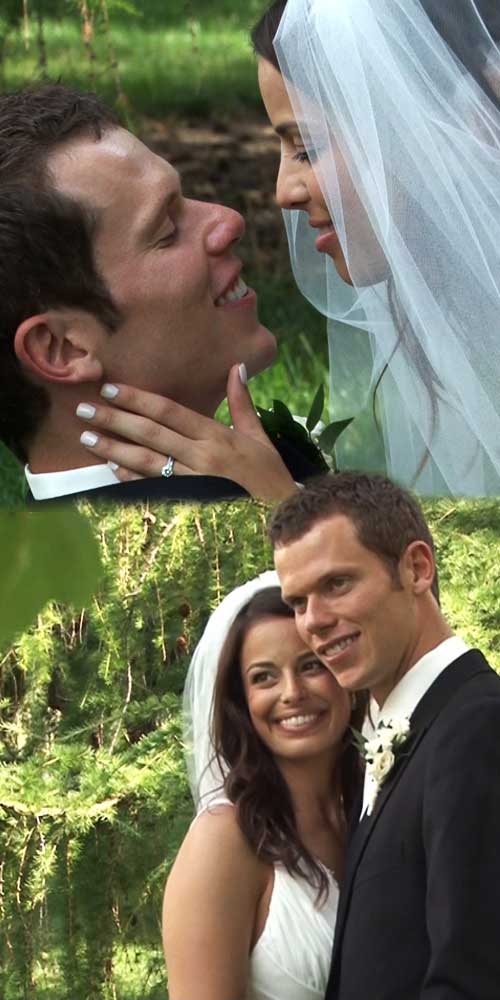 "Tony, Oh my gosh...love, love, love it! You did such an amazing job! This is beyond any expectations I had.  Our mothers, my sisters, my friends, and I can't make it through without crying! Even someone that is just an acquaintance of my mother watched it and teared up. You did such a great job at capturing every moment, every detail, and every emotion. The music you added to go along with it is just perfect too! This is a treasure that I just can't thank you for enough. The video truly captured our whole day; better than any pictures could. You are so so talented! I wish I could pass on to you all the compliments I have been receiving on the video. My phone and facebook have been blowing up with them. 🙂  THANK YOU again so much!!" [To those considering wedding video coverage]: "On such a special day, when things go by so quickly and you want to remember them all, you will be so grateful to have Capture This there because they will get it all!!  He caught so many moments that we had missed or forgot about and we thank him so much for that!! I promise you will not regret hiring Capture This!"
-Angel (Bride)

"OMG!!!!  Tony, your video made us laugh, cry, and re-live the entire day.  You completely invoked the feeling in us that we had throughout it all. Scale of 1-10, we give it a 20!  I could not be more grateful.  You were also amazing to work with-a great guy and fun to be around.  I know I told you we weren't sure about doing the video-and I can say for certain that it was one of the more important investments.  We had thought maybe to have a family member do it, but the camera angles, special mic, effects, music, chapter selection, etc. made it worth the investment and will help us re-live our wedding in the future.  It all looked perfect ...THANK YOU!!!!!  I will be recommending you FAR and WIDE to anyone or any bride that will listen!"
-Elana (Bride)
"As you are planning a wedding, the chaos and price of things is scary. It seems like a large amount of money to pay for "just a video".  As you get to your wedding day there are so many things going on that it is impossible to take in all the moments that happen. That is why hiring CTVP to help you get all those moments is WELL worth it. They have the ability to capture every detail from dress, venues, and fun times. In the end, after the wedding is all said and done the price that you were so worried about before the wedding seems like nothing in comparison to the video you walk away with. … Tony did such a great job from the minute he began our wedding shoot to the end product of the video. Tony's constant contact and communication made for an easy process and he gave a "no worry" feel about the wedding video. Since the wedding we have been telling everyone about the service provided by CTVP.  Ten plus stars for CTVP."
-Maggie & Adam (Newlyweds)
"I don't even know where to begin. Thank you seems so little for the amazing work you did on our wedding videos. We ended up watching them last night (two times through 😉 ) they were absolutely beautiful! I am so so so happy with them and appreciate all your hard work you put in. From the music to the clips to the important details you have in each video was perfect.  I will be watching them over and over! We are so happy we went with you and are thrilled to see the work you do. ... Thanks again, we are in love with the work you do.  It was the best gift we could ever have."
-Megan (Bride)
"OH MY GOSH!!!  We just finished watching Erin and Adam's wedding video and all I can say is Thank you!!!  ... I am so glad we did this. It was like reliving the happy day all over again. We also saw and heard some of the cool things we missed during the busy day. You did such a great job of showing Erin and Adam's love for each other and their family and friends supporting them! Watching the video made Jerry and I so proud and happy! We cried and laughed through the whole thing.  We pulled it off with help from so many people, and now we will be able to remember the day forever! Everything you picked and put together was perfect!! Thank you for all the time and work you put into this, It is perfection!!!" 
-Sara and Jerry (Parents of Bride)
"I can't even begin to tell you how much we LOVE our video!  I think we've watched the "movie" 4 times now and I still cry every time I watch it.  It's SO beautiful!  You put the entire day into that movie perfectly!!!  I am SO SO SO happy we made the decision to get a videographer, and how lucky we were to find you!  You do AMAZING work!  I will highly recommend you to any future brides I talk to."
-Kara (Bride)
"I don't have words to express the gratitude of your work! I've been saying I felt like the day was just another day in my busy life and that I wanted a redo to take it all in! You have given me the opportunity to do it without the huge expense! We love the feature video so much and it had us both tearing up! I loved your angles and creativity! You were so great to work with!"
-Jacey (Bride)
"Our wedding video was a gift from our parents and it is by far our favorite gift! To any bride trying to decide whether or not to get a video...do a video!  There are so many things that I missed throughout the day that I was able to see on the video.  ...  We LOVED watching the video, but even more so I am looking forward to watching it many times in the future."
-Erin (Bride)
"Everything from the first phone call to Tony to our watching of the video was great. He was very fun to work with and made the entire process easy and enjoyable.  The quality of the video is exceptional and the editing and music were both incredible. We would absolutely recommend Capture This Video to family and friends, in fact, we already have! Capture This Video does a GREAT job and Tony was so much fun to work with!"
-Nicki (Bride)
"I have already recommended you guys!!! You do great work and even better to work with.  Tony was great to work with I couldn't have asked for anything better.  It is worth every penny!" 
-Megan & Casey (Newlyweds)
"This is our favorite keepsake from the wedding. We love watching the video - it makes us happy all over again.  ... Big screen movie quality.  We look like movie stars.  Beautiful production.  Seamless editing. ... I couldn't imagine it much better.  Excellent and top-notch professional quality."
-Brian (Groom)
"For a long time, I was debating whether or not I wanted to hire a videographer for my wedding and I am so happy I decided to do it. The day went by so fast and it is really nice to be able to sit down and watch all of the special moments that took place. Plus, we are able to share our day with family and friends who weren't able to be with us. Tony is wonderful to work with and you won't regret having him capture your wedding!  On the day of the wedding, he made the whole bridal party feel very comfortable. He was polite and always smiling!  The quality of the videos are great. We couldn't be more pleased with everything."
–Angel & Derek (Bride & Groom)
"I initially wasn't going to have a videographer, but my mother convinced us to do it and I'm really glad she did. There is so much that goes on during your wedding day that you don't realize and don't get to see. Having this video we get to see it all and watch it whenever we want 🙂 the highlight video is also great to share with friends and family! So happy we did it!! Wonderful!"
-Shelby (Bride)
"Tony is very professional and polite. He is also responsive and timely. These four things are very helpful when planning a wedding.  If you want someone genuine and professional who aims to please then you should choose Capture This!"
-Nichole (Bride)
"Tony did an amazing job!  We could not be more pleased with our video; I watched it four times the day I received it.  Thanks so much, Tony!"
-Brynn and Kye (Newlyweds)
"Everything meshed & flowed so well.  It rekindled every moment perfectly. ... The quality of the videography services was amazing. ... I can't express our appreciation and gratitude for the wonderful service that was provided to us for our big day!"
-Shelly (Bride)
"Tony was extremely helpful both prior to our wedding and at our ceremony.  He made both of us feel at ease whenever we were around him.  The video & audio recording and equipment had little to no intrusion in our wedding.  We both were extremely impressed with all the work Tony put into the video." 
-Tracie and Joel (Newlyweds)
"Tony was very professional and very unobtrusive.  Of all the wedding or other videos I have ever seen, the audio is excellent.  The background noise is very minimal, and the speeches are easily heard.  He did an excellent job, and we would definitely have Capture This Video Productions do it all over again."
-Joyce and Arnie (40th Anniversary Celebration Video)
"Thank you again for the wonderful job you did 'capturing our special day.'  We are so pleased with the DVD--you truly have a gift.  Hope to do business with you again someday."
-Tara and Jake (Parents of Bride)
"The quality was clear and the sound, especially the music, sounded great!  The disc and DVD cover looked very professional.  You captured my wedding colors and style well.  The products provided and what we received were exceptional. ... Great job, Tony, and THANK YOU!"
-Ashley & Ben (Newlyweds)