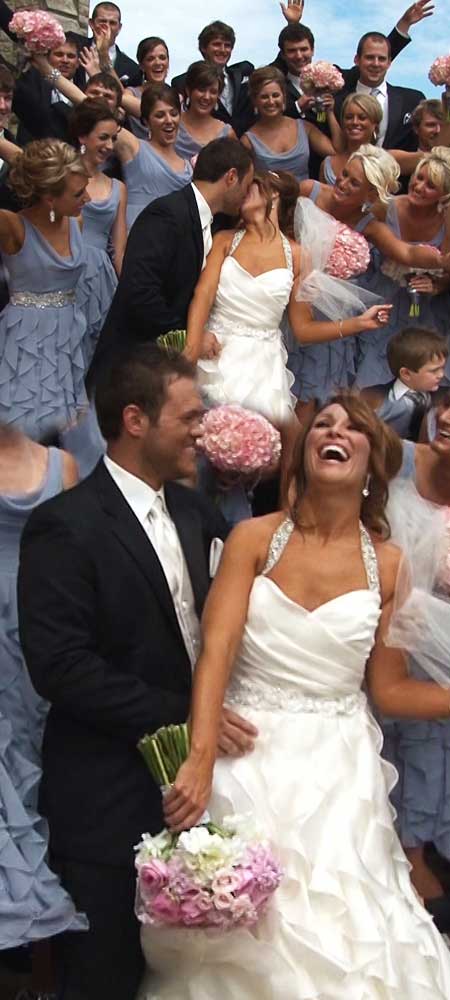 Wedding video coverage is a live and sometimes fast-paced challenge.  People are always on the move, lighting and sound conditions are frequently changing, and unpredictable situations are always a possibility.  If something is not captured perfectly, it is not possible to have a second take. 
For these reasons, professional wedding video coverage is more of what we like to call a "reality-movie."  What is captured can be polished and perfected using the methods described above, but shot composition as seen in a Hollywood movie--with numerous takes--is simply not possible. 
Before hiring a videographer, it is important to understand the limits and style of live videography so that expectations may remain high but also be realistic.  In any case, an experienced professional with professional equipment will be able to maximize the quality of shots captured and make them look their best on the final video.
We are pleased to offer an array of options gleaned from the dreams of couples we have served over the years.  Your selection can be as simple as picking a starter collection, or as customized as building your own package with additional enhancements.  We are excited to help you build a customized and unique set of services to meet your dreams and needs. 
We want you to be able to return to your special day and relive it time and again as well as share it with your family and friends now as well as your children and grandchildren in the future.  With a wide range of options and prices, we are confident that you will find one with which you will be well pleased.  Enjoy perusing, and let us know how we may assist your planning!